Welcome
Aerocon Engineering has been at the forefront of aerospace development for over thirty years. From complex mechanical systems and cabin interior components to high-performance cabin noise control and the latest in solid-state electronics, Aerocon has built a reputation on design excellence, high quality, and attention to customer needs.

When a large portion of a company's business comes from word-of-mouth, and when customers keep returning, it's clear that company is doing something right. At Aerocon, we are proud of the strong, lasting, professional relationships we forge with our customers. We maintain a critical role in long-term, high-tech development programs such as the JSF Cooperative Electronics Test Bed, as well as numerous quick-turn VIP modifications around the globe. Whatever their need — Aerocon delivers.
Featured Products
Whether you need a custom-designed crew rest compartment, a secure means of embarkation/debarkation, custom electronic monitoring/control system, or the quietest aircraft cabin available — Aerocon is your solution!
Aircraft Parts Distribution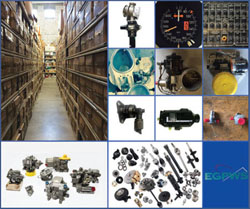 In addition to our products and services, we also offer
aircraft parts distribution
— we have over 150,000 parts for DC-10, Boeing 700 Series, as well as Airbus A Series in stock.